I've written before here about higher education at the movies, covering such diverse offerings as Admission, a movie focused on admissions to university, and the best animated monster themed higher ed movie ever, Monsters University. So, beyond these two and the splendid Starter for 10 and Educating Rita, not to mention The Graduate (which doesn't really cover HE as such), the only other decent higher education related film out in recent years is Dear White People, a really excellent movie and highly recommended.
There is also a whole host of rather dodgy higher education movies, mainly involving blood, guts and gore, which are really best avoided as I've written about here before. So that's HigherEd at the movies, what about representations of the sector in TV programmes? There are some real classics from down the years and here's a few of the best (all plot summaries courtesy of Amazon):
A Very Peculiar Practice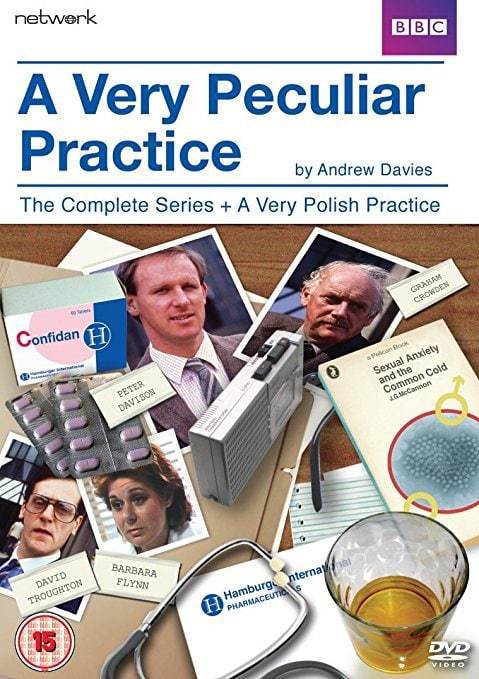 This is one of the very best:
Lowlands University is a swamp of fear and loathing. A showpiece Sixties campus looking increasingly anachronistic in the paranoid, profit-driven Eighties, it is staffed by angst-ridden academics desperate to hang onto their privileged status amid swingeing cutbacks. It also houses what may well be the worst medical practice in the British Isles. Stephen Daker sees his new job at the Medical Centre as a chance to pursue excellence among a dedicated team and he's somewhat shaken when his colleagues turn out to be a wildly unpredictable dipsomaniac, a public school-educated fascist and an uber-feminist who sees illness as something men do to women. Dark secrets, sinister experiments, demented academics, STD epidemics, the Yankee Dollar, a desperate Creative with writer's block and a couple of nuns all conspire to make life on campus a hair-raising experience for Stephen!
Porterhouse Blue
Completely over the top but no worse for it:

Based on Tom Sharpe's satirical novel and set in a fictional, all-male Cambridge College, 1987's Porterhouse Blue is a crusty delight. Ian Richardson stars as the austere moderniser who takes over as master of Porterhouse with a view to bringing in radical changes; David Jason is Skullion, head porter for 45 years and a bulldog-style traditionalist.

Porterhouse Blue is a wonderfully grotesque and not inaccurate depiction of an Oxbridge college that has set itself resolutely and decadently against the modern world. Crammed with hoggish, port-swilling dons who are more concerned that the college stay "head of the river" than with academic achievement, the highlight of Porterhouse's year is the Founder's Feast, in which students and tutors gorge debauchedly on roast swan stuffed with widgeon, to the horror of the new vegetarian master.
Nice Work
Just fantastic this one – based on the David Lodge novel of the same name it really captures the mood of the country, including universities, in the mid-80s:
It's 1986 and Industry Year, which is great news for manufacturing in Rummidge, an unlovely sprawling city in the heart of the Midlands, raked by motorways. Thatcherism is working and the recession is levelling out. Suffering from the last round of cuts in funding, the University is desperate to cast off its ivory-tower image. Its first effort towards achieving this is entering the Industry Year Shadow Scheme . Robyn Penrose is chosen as the University's representative. She's a young, idealistic lecturer in English Literature and an expert on the Victorian industrial novel. Straight from school into academia, she's never set foot in a factory. Now she finds herself shadow to Vic Wilcox, the middle-aged, self-made managing director of a Rummidge engineering firm. The thought of following his every move for one day a week for the next six months is totally unappealing to Robyn. And Vic, for his part, is equally hostile. But over time, they both find themselves drawn to each other…
Community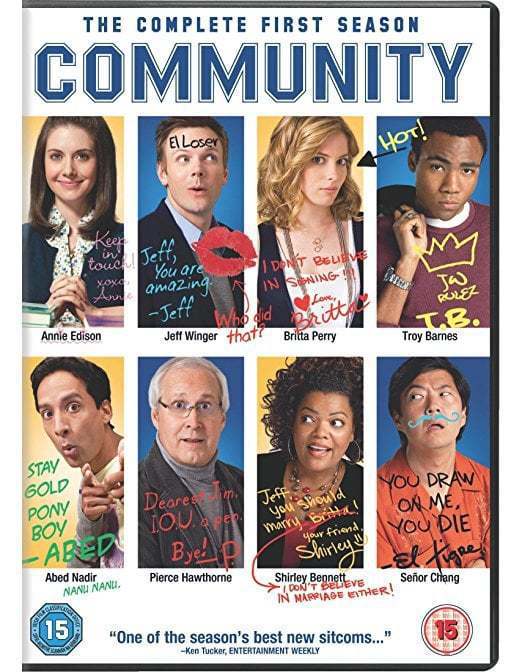 Set in a US community college. Features Chevy Chase. What's not to like?
Smooth talking ex-lawyer Jeff Winger has got a lot to learn, and he's come to Greendale Community College to avoid every bit of it. Unfortunately for Jeff, he's not the only misfit to enroll here, and people in need have an odd way of finding each other. First, his fake study group becomes a real study group. Then, over the course of a strange year – from Mexican Halloween to the final 'Tranny Dance' – including bad trips, great debates, drunk dials, food fights, epic paintball battles and sinister chicken finger conspiracies – the group becomes a family, something Jeff never wanted, but clearly needs.
The History Man
Unfortunate in creating something of a sleaze monster in Howard Kirk it nevertheless feels like a spot on representation of a very different higher education era:
Antony Sher stars in The History Man, the BBC's critically acclaimed four-part drama series based on Malcolm Bradbury's savagely satirical novel of seventies campus life. Anthony Sher plays the moustachio'd Howard Kirk, Marxist, promiscuous womaniser and bully. An ambitious sociology lecturer, he delights in stirring up revolutionary feelings at the University of Watermouth, manipulating students, colleagues and lovers alike to further his career. The supporting cast features Geraldine James as Kirk's equally open minded but disenchanted wife; Paul Brooke as his hapless friend Henry; with Miriam Margolyes and Michael Hordern among his teaching colleagues. Legendary British actor Antony Sher shot to stardom for his unforgettable portrayal of the libidinous and ruthless Kirk in this biting satire of the permissive society, now hailed as a classic series and a faithful adaptation of a seminal novel.
Plus the best of the rest:
Dear White People – it's really good but actually I would say the movie is better
The Young Ones – now rather dated although the University Challenge episode is still outstanding
Fresh Meat – the most up to date show on this list – feels worryingly real
Big Bang Theory – the big hit US show. Hard not to like
Small World – another late 80s adaptation of a brilliant David Lodge book. Notably features Cliff from Cheers (as an academic, not a postal operative)
And the ones to avoid:
Campus – spectacularly unfunny UK university series based at Kirke University with a grotesque Vice-Chancellor called Jonty de Wolfe.
Off the Hook – student-focused BBC3 series. Poor even by the standards of that channel.
Plus loads of US ones I've never even heard of including:
Boston Common – about someone who works in a students' union – that's never going to be great viewing, is it?
Greek – not about Ancient Greece apparently but four seasons worth of events around fraternity and sorority members.
Hellcats – The wild world of competitive college cheerleading (it says here).
So, plenty of choice for your higher ed TV viewing there. Are there any I've missed?