The top 10 college football marching bands is a slightly niche ranking and has understandably been overlooked by league table enthusiasts since its publication a year ago.
It is, of course, an entirely US-based league table but that's not terribly surprising. And it's an activity about which we in the UK are not very well-informed and probably not that interested. But hey, it's a league table so who am I to object?
1. University of Southern California, Trojan Marching Band
Apparently this band is really famous and has appeared in Forrest Gump as well as in lots of music videos, the most famous of which is their appearance in the video of "Tusk" backing up Fleetwood Mac. That was 1979 for you. They are fun to watch apparently:
Its drum major doesn't conduct his musicians with a baton. He uses a sword. (Before kickoff, the drum major plants the sword at midfield.) And after victories, USC players take possession of the sword and lead the band.
Anyway, here's one for the oldies.
2. Ohio State University Marching Band
It seems the Ohio State band has put together some remarkably intricate halftime shows in recent years including a superhero themed performance.
3. Texas A&M, Fightin' Texas Aggie Band
It seems that Texas A&M's band moves with absolute precision and its "military-style formations, such as the Block T and the four-way cross, are extremely difficult to pull off".
4. Ohio University, Marching 110
Ohio University's Marching 110, named for the number of members in the school's first band, "puts on spectacular shows".
5. Tennessee, Pride of the Southland
The Pride of the Southland Band is "famous for its circle drill" which involves the band forming complex geometric shapes: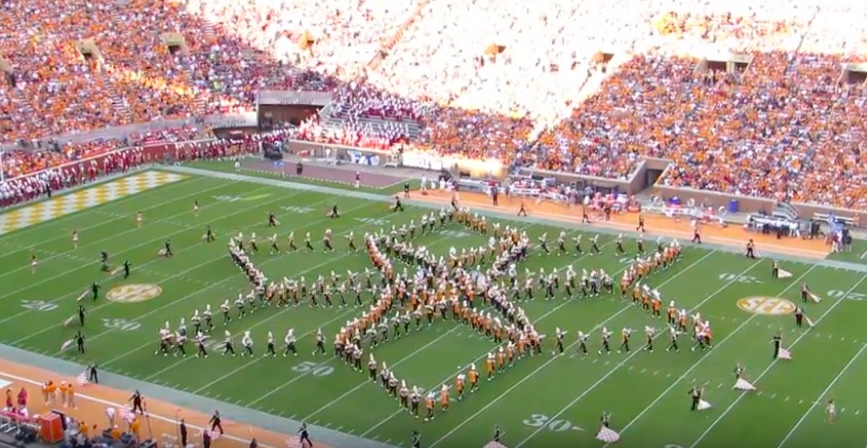 6. Stanford, Leland Stanford Junior University Marching Band
"They pull pranks, dress up in costumes, and generally just have fun while performing." (I thought they all dressed up in costumes)
7. Michigan, Michigan Marching Band
If you want an up-close-and-personal look at the excellent Michigan band, go watch them rehearse on the morning of a game day.
I'm on my way.
8. Penn State, Blue Band
The Blue Band puts on a spectacular show every week. One of the highlights of each performance is the drum major, whose acrobatic forward flips make the Beaver Stadium crowd go wild.
9. Texas, Longhorn Band
They have a big drum known as Big Bertha, which is nearly 100 years old. One hundred years!
10. Purdue, All-American Marching Band
They also have a big drum.
In other marching band news …
One other marching band story for those who get excited about this kind of thing. Here's a piece about a load of marching band members dressed as dinosaurs which apparently made a huge difference to a match result following a half time performance.
Like any good trick play, Iowa State's dinosaur routine was inspired by the past and required months of careful planning. It then went wildly viral.
SB Nation spoke with ISU band director Christian Carichner about how the best marching band moment in years came together.
"I think one of the iconic scenes from that movie Jurassic Park is the big gate when they first drive into the park. And so we put the dinosaurs right in the middle of that gate."
Band leaders started putting together their routine in June, when they ordered 60 inflatable dinosaur costumes on Amazon.

"Some of our kids were too tall to fit inside the dinosaur costumes," Carichner says.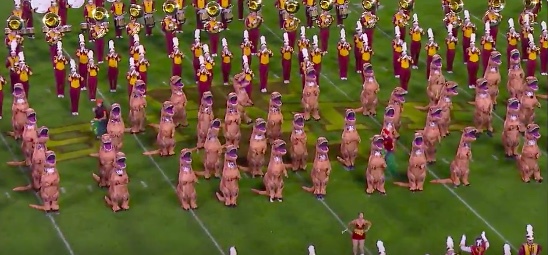 Apparently the costume is about 8 feet tall, but no one taller than 6'3 or 6'4 can wear it.
But there were more challenges too, including the weather:
A key part of college football is executing in tough conditions. Recent weather in Ames almost threw the entire plan into chaos.

Disaster almost struck during the performance. The dinosaur costumes seal tightly. They need to, because a small fan inside of them keeps them inflated. In the cold air and while doing rigorous physical activity, the small windows for sight fogged up, partially blinding dozens of on-field dinosaurs. Some third-party dinosaurs had to step in to help.
"So the kids couldn't really see," Carichner says. "If you watch the video, there's two guys; we call them the 'dinosaur wranglers,' wearing different dinosaur costumes, kind of poking around and making sure that they were all in the right spot."
So much of the drill comes down to technique and maneuverability.
"Obviously, they have small arms," Carichner says of the costumes. "So they're limited by what they're able to physically do, so we spent a lot of time in the costume trying to figure out what gives us the biggest bang for our buck in terms of the movement. So, being able to do the 360 and not get too disoriented on the field."
Ultimately, everyone in a dinosaur costume has to really commit to the bit.
We need some of this in the UK, I think.