In a recent post I reflected on some of the changes in university management and administration (and blogging) over the past decade or so.
Despite all of the changes which have taken place in higher education in recent years, all the structural re-organisations, lean programmes and exciting new approaches to effectiveness and efficiency, universities are still full of committees.
Not all of them might be regarded as hugely important but I would argue that ensuring proper committee operations at all levels is actually a critical part of university management and governance. It requires a level of discipline and consistency which is part of the enduring infrastructure of a university and underpins the professional ethos of a university administration. Get these formalities right and many other things follow.
So there are some really good reasons why we need good committee practice and effective minuting of meetings. As I have written here before university governance and getting governance right really matters. A small but important part of ensuring effective governance is making the system work effectively and proper committee operations is central to this. Planning the programme of work, agenda-setting, ensuring proper information provision and recording decisions accurately are all essential to helping this system function properly.
Throughout my administrative career I have been required to undertake committee work and whilst at times it has felt tedious and rather pointless being able to do this properly has been consistently beneficial. Being 'invited' to take on the secretaryship of a committee was not an opportunity to be declined. I've therefore always thought that committee work was fundamental to an administrator's role and was particularly keen to ensure that at the University of Nottingham we had a proper Committee Handbook covering, among other things:
Committee roles
Taking on a new committee
Meeting arrangements & timeline
Setting the agenda
Inviting and distributing papers
Meeting protocol
Writing minutes
After the meeting
Records management
Advice for presenters and paper authors
Templates for agenda, papers and minutes
A number of colleagues contributed to this to ensure we had really clear and established guidelines on all aspects of committee operations. However, I have to admit it has not been terrifically well-used over the years.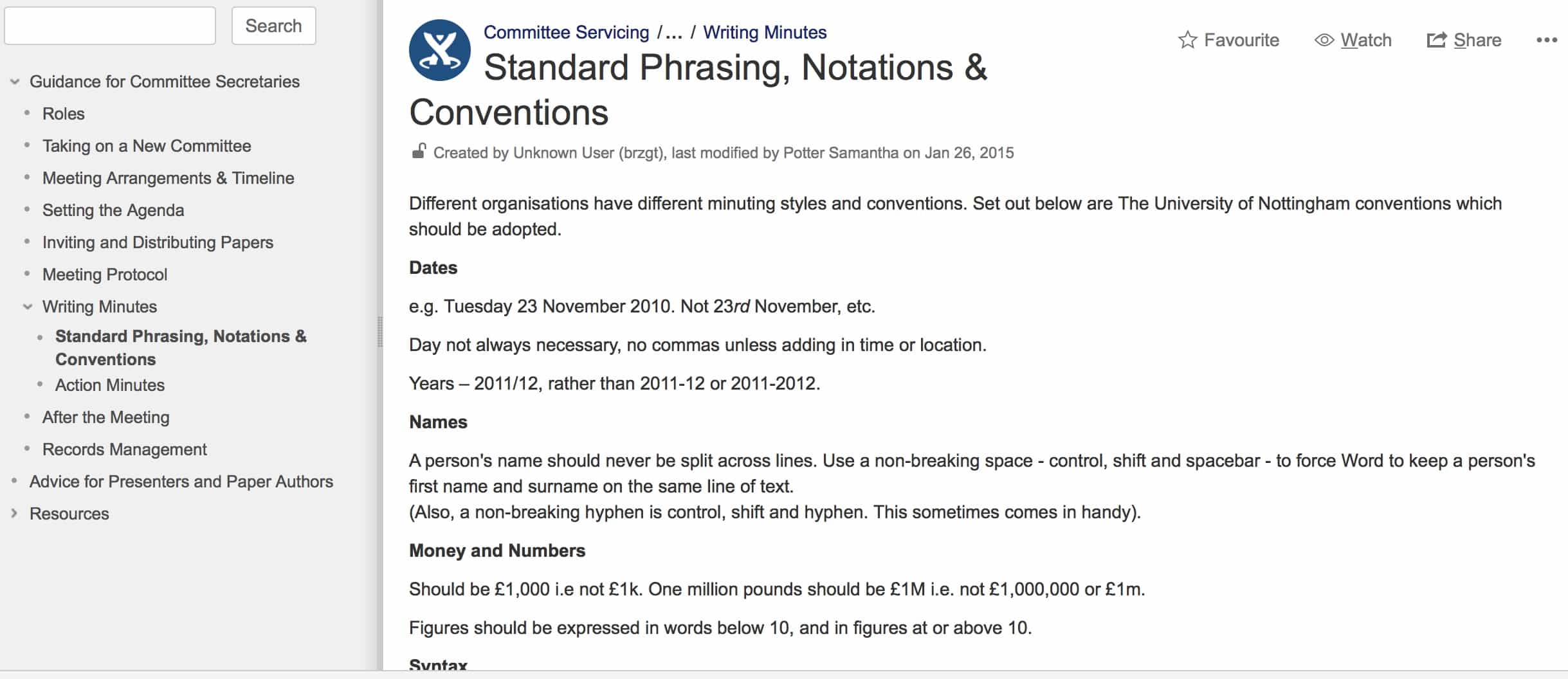 An extract from the Committee Handbook
My long-held view, that every ambitious administrator should be keen to take on a committee in order to expand their horizons and improve their skills, is clearly out of date. Things have changed and not only is there a real reluctance from individuals to take on the committee secretary role, but the art of agenda setting and minute writing and broader committee skills are seemingly not valued these days.
Why has it come to this then? It's hard to say really but fashion I think has a lot to do with it. There is also something very non-digital, un-zeigeisty and just a bit boring about doing all of this stuff properly. I suspect that a lot of administrators now feel it is possibly beneath them to write minutes and all that tedious committee-gubbins is for more junior staff. It is also possible that the title inflation phenomenon in university administration has contributed to this.
I also have a suspicion that there are so many crappy Microsoft Word templates for action points and meeting notes out there that everyone thinks this is all really straightforward and you can just bang it in. And while I'm on it I fear that next to no-one feels comfortable with the subjunctive these days thanks to the failings in our school system. Grim times indeed.
What is to be done? I'm afraid I don't know. Many universities do have the equivalent of our Committee Handbook and AUA once upon a time published a Good Practice Guide (excellently titled Just a Minute and written by Jean Grier who also regularly ran AUA conference sessions on the topic for forward-thinking administrators). And there are still, thankfully, some colleagues who do take this seriously and appear to be able to write very good minutes extremely quickly and with very little need for amendment.
Nevertheless I don't hold out much hope for some resurgence in the demand for proper minute-writing as a result of new legislation (a hitherto unnoticed clause in the Higher Education and Research Act perhaps) or some regulatory infraction which requires a tight committee system as a response. So there is not much chance really of a big change here.
I hope this isn't golden age longing or a kind of committee-based nostalgia (which would be bizarre). It may feel dull but proper committee processes are important to effective university operations and governance. Moreover, a good track record in committee work also provides sound evidence of comprehension, analysis and writing skills which I hope would still be regarded as essential for career progression.
Minute-writing does though appear to be a dying art. I fear universities will be less effective places for it in the long run.