You know the drill. A society invites a controversial, high profile speaker onto campus. You go through the usual procedures – and you conclude that you'll have to put on security. But who should pay?
Whether it's the SU or the university, the Equality and Human Rights Commission guidance on Freedom of Speech on Campus dodges whether it's "reasonable" for student fee income to be spent on alt-right celebrity security rather than, say, teaching and learning. But it's an issue that never seems to go away, and is central to the contemporary controversy surrounding external speakers.
Freedom to speak?
"Universities should be places of open debate, where ideas can be debated freely", says Policy Exchange's report into academic freedom – which is really a report on freedom of speech, or rather press stories about it.
As my colleague David Kernohan says elsewhere on the site, it's not a great piece of research and not an especially sensible set of proposals. But we are promised more from PX – and we do hear that a version of the proposals almost made it into the Queen's Speech back in October. Supposedly, Jo Johnson wanted them in but Chris Skidmore put the red pen though them – and a version of them could yet form a component of the incoming Government's legislative agenda.
If it feels like an issue that never goes away, it's worth remembering quite how long it's been around for. The story of "No Platform" policies and legislation in 1986 that supposedly outlawed them has been told before on the site – just as they do today, moral panics over the "banning" of speakers by students dominated the press in the 70s and 80s. Eventually that all led to the Education Act 1986 and the "Freedom of Speech" codes of practice that we know in universities today.
Testing testing
It's what happened next that's interesting. Within weeks of the legislation in 1986 passing there were attempts by various "Federation of Conserative Students" (FCS) societies to test its effectiveness – notably the Times reported that Bristol (Student) Conservatives were thinking of inviting a speaker from the National Front to the university to test the effectiveness of the new law.
Where was this coming from? There were a number of backbench conservative MPs who were engaged in testing SUs and universities with the cooperation and organisation of FCS – a nationally planned speaking programme had been created with a small group of MPs close to FCS led by the "maverick" Enoch Powell.
After a while the issue disappeared off the agenda as Norman Tebbit, then Chair of the Conservative Party, closed down the FCS following allegations of vandalism, vote rigging and accusing Harold Macmillan of being a "war criminal". But the issue lingered on – and central to the ongoing row then (as it is today) was who should be paying for the costs of security at a controversial event.
The successor body to the FCS was called the "Conservative Collegiate Forum", and in 1989 it produced a pamphlet on campus freedom of speech which seems very familiar today. It carried a string of case studies on campus events – many of which had been generated by the FCS speaker tour – where students had threatened counter-protests when a controversial, right-wing speaker was invited. This usually led to the university or SU having to put on security, and often unless the society making the invitation was willing to meet the costs, the event would not go ahead. FCS saw this as a crafty way around the law.
An unusually popular Early Day Motion commended the report:

In 1989 Conservative MP Tim Janman tried to introduce an amendment to an Education Reform Bill that would have prevented universities from imposing "a charge for security on the organisers of any meeting", but was persuaded to drop the amendment in return for assurances that the issue would be looked at again. It never really did re-emerge legislatively, but we've never really known why.
Digging into the past
So a recent look at Cabinet Office papers in the National Archive in Kew is fascinating – because it reveals quite how close universities and SUs came to being made to pay for imposed security.
An unpublished draft consultative paper from later in 1989 picked up Tim Janman and the FCS' gripes, centring on "violence and intimidation" when some tried to "exercise their right" to free speech: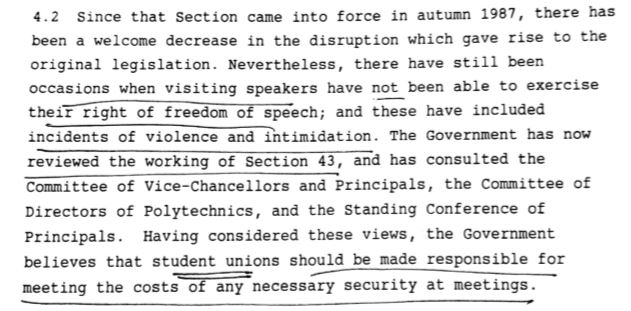 The idea that SUs should pick up the tab was an interesting one – not least because SUs rightly argued that they often weren't directly inviting speakers themselves. But the government had a way around that issue: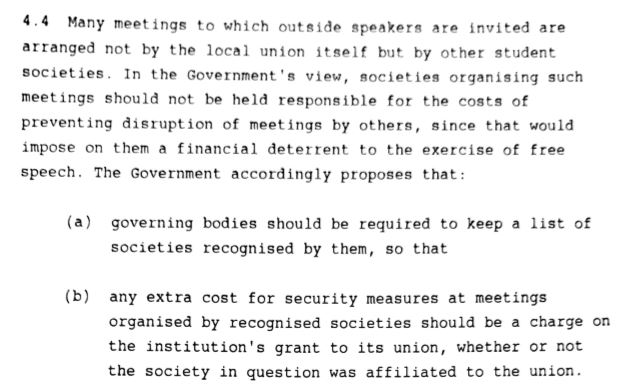 For obvious reasons, a proposal requiring SUs to pay for security regardless of whether a student society was even part of the SU would likely have bankrupted many. And anyway, wouldn't this just lead to some student societies repeatedly inviting controversial speakers to attack SUs? The proposal had a way around that too: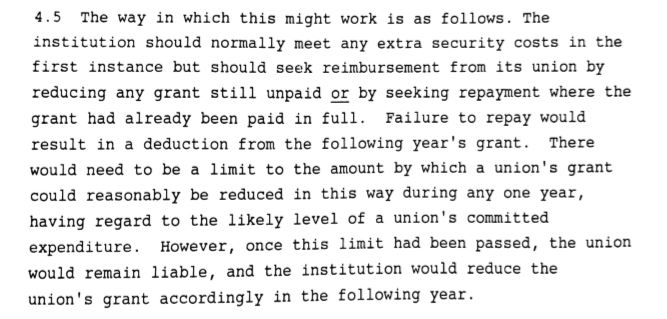 Of course, the logical next step was then to propose that universities themselves should be in the business of approving (or not) the list of societies at a given university – a proposal which almost made it into the Education Act 1994.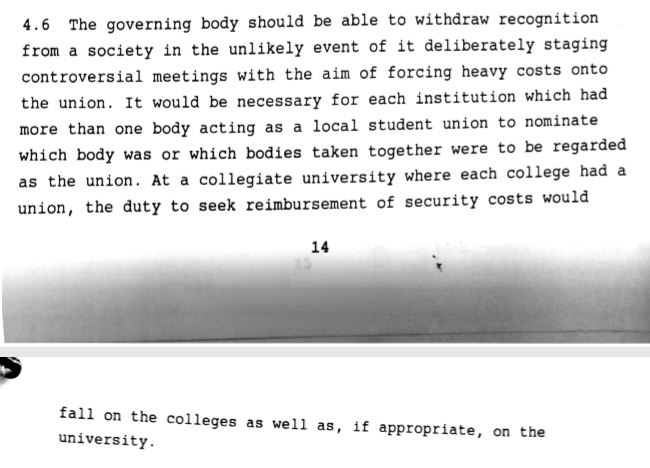 The idea was that SUs become principally responsible the maintenance of a culture (and the costs of) Freedom of Speech on campus: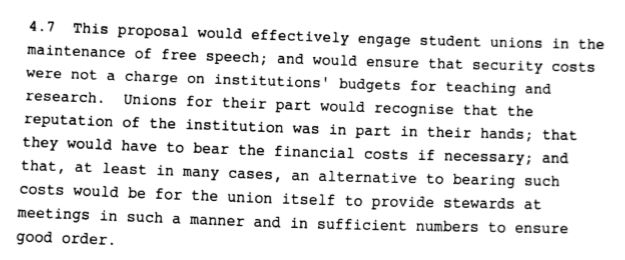 Thankfully, the proposal didn't get much further. The Attorney General's advice to the Prime Minister was that it was unnecessary – and that the few cases that had caused the concern had been exaggerated:

Back to the future
By 1990 the proposal had been dropped, and other issues of SU reform were considered more pressing – like automatic membership and the "political activity" of SUs and NUS. Scroll forward to today, though, and the issue is still present. That Policy Exchange report says that:
events are cancelled because of security concerns or because permission is denied for a particular speaker…raising the concern that academic freedom is being significantly infringed"
… and Policy Exchange has a new solution for the issue this time around:
clarify that the duty to ensure freedom of speech … prohibits members from obstructing, disrupting, or otherwise interfering with the freedom of others to express their views"
…which sounds a lot like banning protest.
Balancing the right to protest (itself a freedom of speech issue) with the right to speak, and balancing both of those with the right to be safe is not only a moral issue, but it can be an expensive issue too. Many of those involved in the CCF in the 80s and 90s are now in Government – Education Secretary Gavin Williamson, for example, is a former Chair of the CCF – and speculation about the higher education content of the forthcoming Conservative election manifesto repeatedly identifies campus freedom of speech as a potential issue. It's unfinished business for plenty of people – and who knows if this time around, the research will inform the policy, rather than the policy demanding some "research" to justify it.